Students Reviews
( reviews)
The University of Leicester Doctoral Awards with Midlands4Cities ( M4C ) Collaboration, the University of Leicester in order to support the education of outstanding students in the UK.

International and UK students are welcome to apply. A M4C university and an external partner organisation collaborate to produce the Collaborative Doctoral Awards (CDAs). CDAs provide a project with well-defined research goals that addresses specific needs in the cultural, creative, and heritage sectors.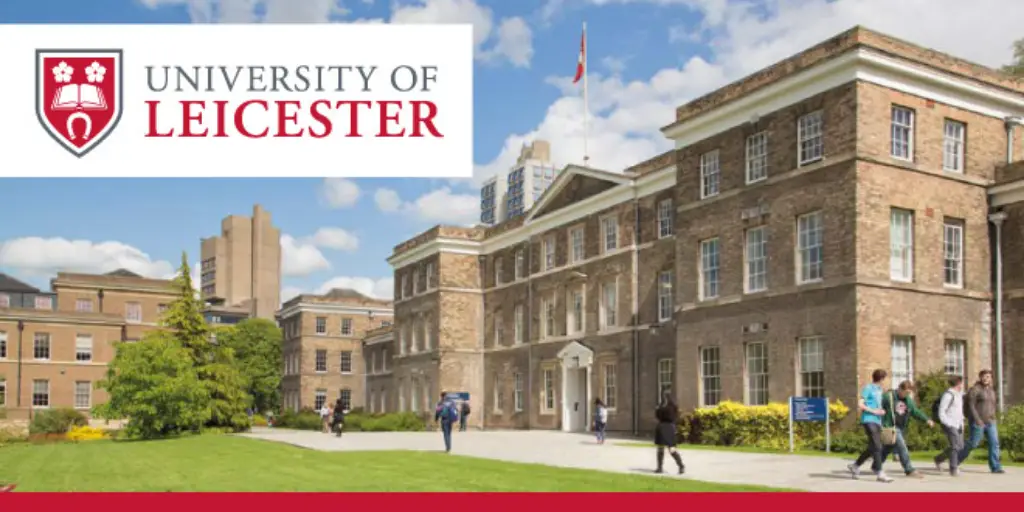 For the past thirteen years, the University of Leicester, which was founded in 1921, has achieved five-star ratings for teaching quality. It is a world-class university dedicated to international excellence, game-changing research, and high-quality teaching.
What are the benefits of studying at the University of Leicester?
Leicester University has a robust research culture, as well as creative and practical courses in a variety of subjects. It also provides students with multiple options for professional development and progress.
✅ More About University of Leicester
The University of Leicester is an English public research university with its headquarters in Leicester. The main campus is located about south of the city centre, in Victoria Park. University College, Leicester, the university's predecessor, was granted university status in 1957.
In 2019/20, the university earned £323.1 million, with £57 million coming from research grants.
The university garnered national recognition for developing genetic fingerprinting and assisting in the finding and identification of King Richard III's remains.
The Leicester Literary and Philosophical Society made the first serious proposals for a university in Leicester. With the success of Owen's College in Manchester, the University of Birmingham's founding in 1900, and subsequently the establishment of Nottingham University College, it was considered that Leicester should have a university college as well. University colleges could not give degrees from the mid-nineteenth century until the mid-twentieth century, therefore they had to be affiliated with universities that could. The University of London administered examinations to the majority of students at university colleges.
The Revered James Went, headmaster of the Wyggeston Boys' School, and J. D. Paul, co-presidents of the Leicester Literary and Philosophical Society, routinely lobbied for the formation of a university college in the late nineteenth century. Private donations were scarce, and the City of Leicester was preoccupied with funding the School of Art and the Technical School. In 1912, Dr. Astley V. Clarke (1870–1945) raised the issue once more. He was born in Leicester in 1870 and attended Wyggeston Grammar School and the University of Cambridge before attending Guy's Hospital for medical training. He was the Literary and Philosophical Society's new President.

Some speculated that Leicester's comparatively tiny population would result in a lack of demand. When the First World War broke out in 1914, discussion of a university college died out. In a 1917 editorial, the Leicester Daily Post argued that something more practical than memorials should be erected to honour the war dead. Following the war's end, both the Post and its competitor, the Leicester Mail, urged donations to help establish the university college.
Some urged that Leicester join forces with Nottingham, Sutton Bonington, and Loughborough to form a federal East Midlands university college, but no action was taken.
Application Deadline: 12 January 2022
✅ Brief Description
University or Organization: University of Leicester
Department: Archaeology and Ancient History Leicester Law School
Course Level: PhD
Award: Tuition fees and stipend
Number of Awards: NA
Access Mode: Online
Nationality: International
The award can be taken in the UK
✅ Eligibility
Eligible Countries: Applications are accepted from around the world
Eligible Course or Subjects: PhD degree in Archaeology and Ancient History Leicester Law School
Eligibility Criteria: To be eligible, the applicants must meet all the given criteria:
Students can also apply on the basis of having equivalent relevant professional experience in lieu of a master's qualification.
✅ How to Apply
How to Apply: Apply for your Leicester PhD using the relevant subject Apply button. Submit your Midlands4Cities application.
Supporting Documents: Submit one University application form, but indicate both projects/funding sources and Research Proposal Form.
Admission Requirements: Students should either hold a master's qualification at the time of application or be able to state that they will have completed one by the time their PhD begins
Language Requirement: Students will have satisfied their English language entry requirements if they are a national of one of these countries and have completed their secondary or university education in one of the listed countries and their teaching was in English.
✅ Scholarship Benefits:
UK applicants will pay UK tuition and receive a stipend based on the UK Research and Innovation (UKRI) rate.
Through Midlands4Cities, international applicants will receive tuition fees at the UK rate as well as a stipend to help with living expenses.
For successful international applicants, the University of Leicester will fund the difference between the UK and International fees.
✅ Get help for this scholarship
Join our Facebook group to connect with international students and discuss your study abroad opportunities such as scholarships, admission, uni selection, free education, college fee, flights, accommodation, transport, etc.
---