Bond University is Australia's first private non-profit university and is located in Queensland. Bond University is currently offering a Doctoral Scholarship.
The Australian Government Research Training Program (RTP) scholarship at Bond University is a fully-funded scholarship program that will cover all students' expenses, such as full tuition fee cover and living costs.
BU has a merit-based approach to determining which students are eligible for a scholarship. The Duration of the Australian Government Research Scholarships will be for 3 Years.
✅ More About Bond University
BU, based in Robina, Queensland, is Australia's first private non-profit university. BU has been largely a teaching-focused higher education institution with a three-semester-per-year calendar since its inception on May 15, 1989. In the Times Higher Education (THE) rankings of the Best Small Universities in the World, the university is rated 20th.
Admission is handled by the Queensland Tertiary Admissions Centre and is based on the Australian Tertiary Admissions Rank (ATAR). BU received the third highest student happiness rating out of all Australian universities, and the highest student satisfaction rating out of all Queensland universities, in the 2019 Student Experience Survey, with an overall satisfaction rating of 87.2.
BU was established and was established by Mr. Alan Bond, Chairman of Bond Corporation in Australia, and Mr. Harunori Takahashi and Dr. Taro Tanioka, President of Electronics and Industrial Enterprises International (EIE) in Japan, as a joint venture to handle Bond University's land and construction.
The university's buildings and surrounding area originally occupied around 212 hectares and included the Burleigh Forest, a former pine plantation. Bond took possession of a number of pine plantations in the region in the 1970s, previously controlled by the Savoy Corporation Limited and the Gold Coast Cooperative Plantations Society Limited, and formed the Development Equity Corporation (DEC) to develop them.
Brian Orr was in charge of DEC, and in 1976, he proposed a university at Gaven Forest to the Albert Shire Council. While this idea did not go forward, a subsequent proposal to create a university near Burleigh Forest in 1986 was successful. Orr reviewed the situation with Bond and Peter Beckwith, and enlisted Jo Anne Cracknell to conduct research into the venture's viability.
Bond decided to proceed with the project on 3 July 1986[14], and the Premier of Queensland, Joh Bjelke-Petersen, formally announced Bond's intention to build the university, then known as the BU of Applied Technology, at the National Party of Australia conference on the Gold Coast on 17 July 1986.
Bond University was given university status by the Queensland Parliament on April 9, 1987, when the Bond University Act was passed. With an initial admission of 322 students, the university began teaching in 1989.
Following Bond Corporation's demise in 1991, EIE purchased Bond Corporation's part of the corporation that managed the site on which the university buildings were built, as well as the surrounding development lands. By 1993, EIE was in receivership, and the BU Council began talks with the mortgagee, the Long-Term Credit Bank of Japan, to buy the campus.
The Bond University Council was not the only one who was interested in the property, which had been offered for sale in major newspapers. The Australian Senate's Employment, Education and Training References Committee conducted a report in 1995 on the planned sale of the campus to the University of Queensland, which had outbid the Bond University Council in previous discussions to acquire the location.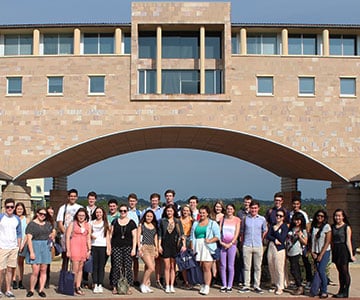 The Bond University Council was successful in acquiring the 50-acre campus property in August 1999, which was purchased by Bond University Limited, a newly formed public company. The university celebrated its 30-year anniversary in 2019. In the same year, the university cut connections with Prince Andrew of the United Kingdom and his previous company, [email protected] Global.
✅ Scholarship Details:
Country: Australia
University Name: Bond University, Australia
Degree Level: PhD research
Financial Coverage: Fully Funded
Eligible Nationality: International & Domestic students
Deadline: 30th September 2022
✅ Available Academic Fields of Study at Bond University
Bond University HDR (Higher Degree by Research) Scholarships in Australia for International Students offer Scholarships in Most Academic Majors/Faculties. The Fields of Study to get Scholarships Bond University are:
Bond Business School
Health Sciences and Medicine
Law
Society and Design.
✅ Financial Benefits:
The benefits provided by the Australian Government RTP scholarship include:
A full fee waiver
A living stipend (amount not stated)
Scholarships are available for the duration of your study: up to 3 (three) years.
✅ Eligibility Criteria:
Candidates must fulfil the following criteria to avail of this scholarship for their study at the Bond university Australia
All national and international students are eligible to apply
All students must meet Bond University assessment criteria- Assessment of Scholarship Applications Framework
All applicants must hold a valid Letter of Offer for enrolment in an HDR program issued by Bond University Admissions Department before applying for this award
To apply for an HDR program, students must meet the HDR academic entry requirements of Bond University and satisfy visa, residency, and English proficiency requirements.
✅ Application Deadline:
The last date to apply for this scholarship is 30th September 2022
✅ How to Apply?
There are three steps to Apply Online for Bond University Scholarship 2022 in Australia.
Submit an Expression of interest (EOI) to the Faculty.
Apply for Admission to Bond University.
Apply for a Scholarship.
✅ Get help for this Amazon Internship
Join our Facebook group to connect with international students and discuss your study abroad opportunities such as scholarships, admission, uni selection, free education, college fee, flights, accommodation, transport, etc.