The University of Melbourne, which is located in Australia, offers fully funded Graduate Research Program scholarships for high-achieving students.
The 2022 scholarships are provided for any field/major for national and international students. The University of Melbourne was founded in 1853, having more than 12,000 international students enrolled. If you successfully get a scholarship place there, you will be joining students from 130 different countries.
✅ Interesting Facts About University of Melbourne
The University of Melbourne is an Australian public research university located in Melbourne. It is Australia's second oldest university and the oldest in Victoria, having been founded in 1853. Its main campus is in Parkville, an inner-city suburb north of Melbourne's central business district, and it has several other campuses throughout Victoria.
The University of Melbourne, founded in the nineteenth century by the colony of Victoria, is one of Australia's six sandstone universities and a member of the Group of Eight, Universitas 21, Washington University's McDonnell International Scholars Academy, and the Association of Pacific Rim Universities. Since 1872, various residential colleges have been affiliated with the university, providing housing for students and faculty as well as academic, athletic, and cultural programmes. There are ten colleges on the main campus and in the surrounding suburbs.
The university is made up of ten distinct academic units and is affiliated with a number of institutes and research centres, including the Walter and Eliza Hall Institute of Medical Research, the Florey Institute of Neuroscience and Mental Health, the Melbourne Institute of Applied Economic and Social Research, and the Grattan Institute. The Melbourne Business School, Melbourne Law School, and Melbourne Medical School are three of the university's fifteen graduate schools.
In 2022, the University of Melbourne was ranked first in Australia and 32nd globally by Times Higher Education, while the Academic Ranking of World Universities ranked it 35th in the world (both first in Australia and the whole of Oceania). The university is ranked 37th in the world and second in Australia in the QS World University Rankings 2022, trailing only the Australian National University. The University of Melbourne has produced four Australian prime ministers and five governors-general. The University of Melbourne has had the most Nobel Laureates teach, study, and research at any Australian university, with eight.
The coat of arms of the university is a blue shield with a white depiction of "Victory" holding her laurel wreath over the stars of the Southern Cross. On a scroll beneath the shield is written the motto Postera crescam laude ("Later I shall grow by praise" or, more loosely, "We shall grow in the esteem of future generations"). The Latin comes from Horace's Odes: ego postera crescam laude recens.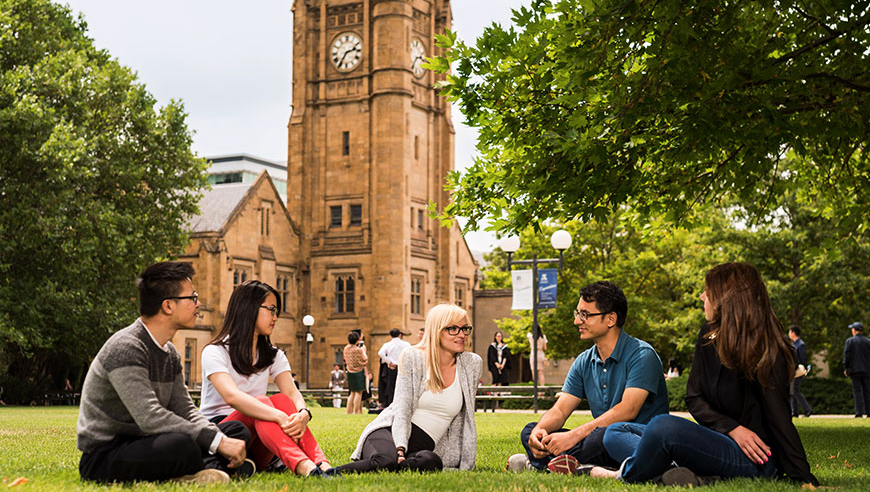 ✅ Details about Research Graduate Scholarship:
Available to high-achieving students undertaking graduate research at the University of Melbourne.
Application type
No application is required. You will be automatically considered for this award.
Benefit type
General allowance
Fee remission
Full benefit details
Citizenship requirements
Australian / domestic student
International student
Total value
100% fee remission and up to $110,000
Applicable study areas
All study areas
Number of scholarships awarded
Approximately 600
✅ Eligibility Criteria:
You must have applied for the graduate research degree and meet the entry requirements or be currently enrolled in a graduate research degree at the University of Melbourne.
For further information about the Graduate Research Scholarship, visit this website.
✅ Selection Criteria
A Research Training Program Scholarship will be awarded to all domestic students who are accepted to the University of Melbourne for a Masters by Research or doctoral degree (PhD) (Fee Offset).
Graduate Research Scholarships are awarded to domestic and international students based on academic excellence and include a stipend as well as a fee reduction. Eligible applicants are rated and graded based on their last completed degree's academic success as well as their research potential in their field of study.
Completion of a degree at the same level as the research programme for which the scholarship is sought, relevant professional experience, peer-reviewed publications, speciality medical certifications, or unique music creation may all be taken into account.
✅ Get help for this Amazon Internship
Join our Facebook group to connect with international students and discuss your study abroad opportunities such as scholarships, admission, uni selection, free education, college fee, flights, accommodation, transport, etc.
---