Students Reviews
( reviews)
With the Master's Excellence Scholarships offered by the ESSCA School of Management in France, you can get advanced management knowledge and abilities to improve your international employment and career development opportunities.
All international students are invited to apply for the academic year 2022-2023. The scholarship will cover the cost of attending ESSCA's Master in Management (MIM) or Master of Science (MSc) program. The winners will get a cash prize of 2,000 euros.
ESSCA School of Management is a business school and grande école in France. The school, which is ranked 115th in the country, aspires to develop responsible managers and entrepreneurs through creating knowledge.
What are the advantages of studying at the ESSCA School of Management?
The vocation of the school is to foster teaching innovation and make it easier for professors to develop its results and practices into their classes.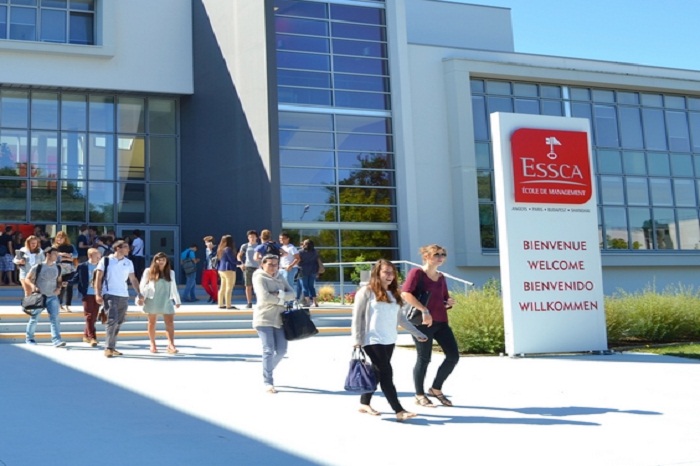 ✅ Interesting Facts About ESSCA School of Management
ESSCA School of Management is a business school and grande école in France. Originally based in Angers, it now has campuses in Paris, Aix-en-Provence, Lyon, Bordeaux, Cholet, Budapest, and Shanghai, in addition to Angers.
The school offers several programmes, including a five-year course (known as the "Grande École") that results in a diploma recognised by the French government and confers the degree of master.
In contrast to some French graduate schools, which recruit students after two years of preparatory classes, the ESSCA competitive entrance exam takes place after the Baccalauréat. This exam is used by the graduate school to keep its admission rate to no more than 600 students per year.
The Angers site was expanded by 2,500 m2 in 2001. The "Grande École" programme was recognised as a master's degree beginning in 2004, after the Bologna reforms were implemented. In 2006, this programme received its first international accreditation: the EFMD Programme Accreditation System (EPAS) from EFMD. ESSCA was the first post-baccalaureate business school to be accredited in this manner. The opening of the Shanghai site (2007), the extension of the original site in Angers (2009), and the relocation of the Paris site to Boulogne-Billancourt (2010) all occurred between 2006 and 2010. The "Grande École" programme introduced its first apprenticeship work-based specialisation in the fourth and fifth years in 2012.
ESIAME (the Bachelors level programme) left the ESSCA group in 2009 and was taken over by the Maine-et-Loire chamber of commerce and industry. In 2016, the programme was reintroduced into the ESSCA portfolio. The Bachelor of Business Management (BBM) in International Management programme was launched in Cholet and Paris at the start of the 2016 school year (ESIAME). Since then, the Bachelor programme has evolved and been renamed Bachelor in International Management (BMI), and it is now available on the campuses of Aix-en-Provence, Bordeaux, and Lyon.
ESSCA received a second international accreditation (AACSB) in 2014, followed by a third in 2016. (EQUIS). In 2017, ESSCA was accredited by AMBA, joining a small group of business schools that have triple accreditation.
Application Deadline: Students must have submitted their admission applications by 8th July 2022.
✅ Brief Description
University or Organization: ESSCA School of Management
Department: NA
Course Level: Postgraduate
Award: 2,000 EUROS
Number of Awards: NA
Access Mode: Online
Nationality: International
The award can be taken in France.
✅ Eligibility
Eligible Countries: All international students are eligible.
Eligible Course or Subjects: Master in Management (MIM) and Master of Science (MSc) programs at ESSCA can be undertaken.
Eligibility Criteria: To be eligible, the applicants must meet all the following/given criteria:
The applicants must be admitted to the Master in Management (MIM) or Master of Science (MSc) program at ESSCA.
✅ How to Apply
How to Apply: Applicants must submit their admission application by logging in to the school portal. Scholarship application form must be filed separately and sent to

[email protected]

.
Supporting Documents: The students are required to present the following documents to the university:
A copy of your secondary school qualification.
Official academic transcripts for the last two years of secondary education in English or French.
Official proof of your English language proficiency.
A motivation letter.
CV.
Admission Requirements: The applicants must have a 4-year bachelor's degree, preferably but not exclusively in business administration or engineering.
Language Requirement: The students must have B2 level minimum English language proficiency.
✅ Benefits
ESSCA will provide 1,200 – 2,000 EUROS to selected international students to pursue postgraduate studies.
✅ Get help for this Amazon Internship
Join our Facebook group to connect with international students and discuss your study abroad opportunities such as scholarships, admission, uni selection, free education, college fee, flights, accommodation, transport, etc.